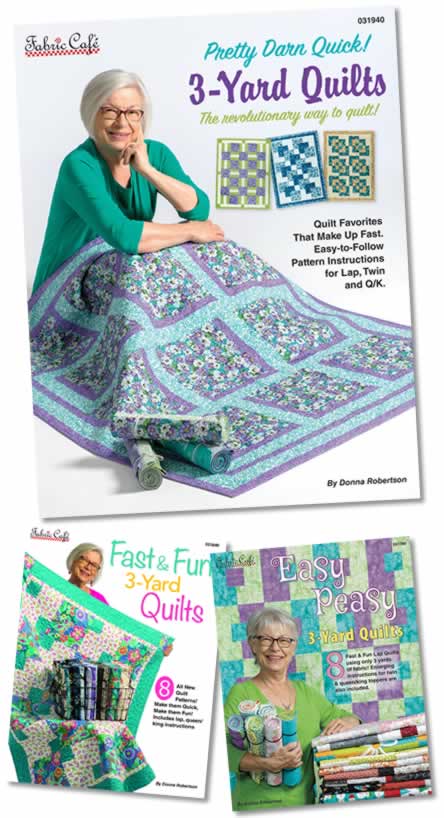 Why Shops Love 3-Yard Quilts:
Easy to make shop model!
Easy-to-Kit! Cut 3, 1-yard pieces and you're done!
Easy to coordinate in-stock fabrics!
Easy to sell clearance fabric!
One day sewing classes! Make a quilt top in a 6-hour class.
Great for beginners, gift quilts and charity projects.
Make Big Quilts from a small amount of fabric. The secret to making larger quilts with smaller amounts of fabric is in the cutting.
No more math for the shop owner! Every pattern gives instructions for a lap, twin and Q/K quilt.
The perfect Stash Buster Companion.
Economically priced. Books from $15.99 to $18.99 suggested retail.
Top 10 Selling 3- Yard Quilt Patterns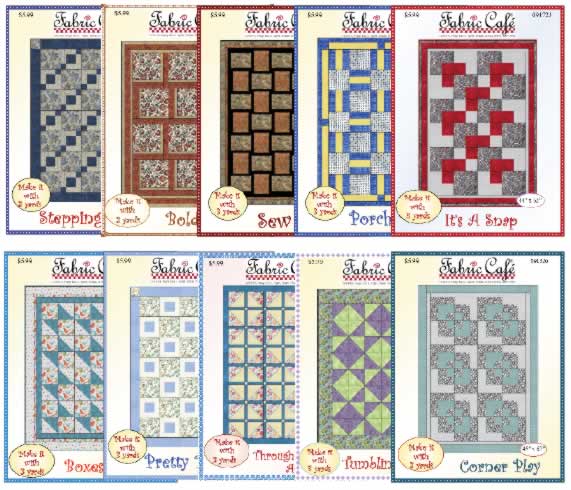 Don't Take Our Word For It...
"I am a shop owner and this was my very first order. The day that the patterns/books arrived, the shop retreat was going on. I brought them in hoping that I could get a look at them. I sold at least half of the books that I ordered before I even got to peek at them. As a shop owner, I would say that says a lot!"

Kim Tyson, Country Caboose Quilts
"I can't keep this book in stock! I love the projects and easy to follow directions. I can't wait to see what you come up with next!!"

Chris Combs, The Quilter's Nook
"Very pleased with this book. We have students wanting easy projects to do and these books make our lives easier!"

Diana Doane, Sew Bizzie Quilting
"3 yard quilt patterns are like quilt candy for our customers. The price is right and customers always know to buy 3, one yard cuts. I'm selling the heck out of fabric since adding them to our shop!"

Robin Jones, Cottontail Quilts